Overview
Learning a new system can be intimidating. Don't worry, COBRA is one of the easiest to use products on the market. Again, if you would like to speak to us over the phone for recommendations or an introduction to our products, don't hesitate to contact us at ssmith@cobrafiringsystems.com or 518-222-7410.
Remote Controls
The remote control is the master brain of firing! This is what you hold in your hand to fire the show. We one controller that supports basic manual firing, sophisticated world class pyromusicals, and everything in between.
Firing Modules
The module is responsible for firing the fireworks. The fireworks are connected to a "cue" on the firing module using an e-match or igniter clip. When the "cue" fires, electricity is sent through the cue which in turn lights the fuse causing the firework to ignite. COBRA offers modules with varying cue counts and connection methods.
Audio Box
The audio box is designed for allowing perfect audio synchronization with automated shows. Simply plug the audio box into your sound system. When the script is started from the 18R2 handheld remote, the audio plays in perfect sync. Pause your show, the audio pauses. Resume your show, the audio resumes. It's a great tool for ensuring great audio timing and low stress if you need to pause your show.
Control Panel
The Control Panel is an easy to use, powerful graphical user interface into the 18R2 handheld remote. If you are firing larger shows, or just want the full features of the COBRA system, this is your product boasting a comprehensive device list, scripted show controls, Google Earth field map and advanced manual firing controls.
Slats
Slats provide varying flexibility in how you want to connect to your modules. Multiple slats can be connected together to fire multiple positions at the same time.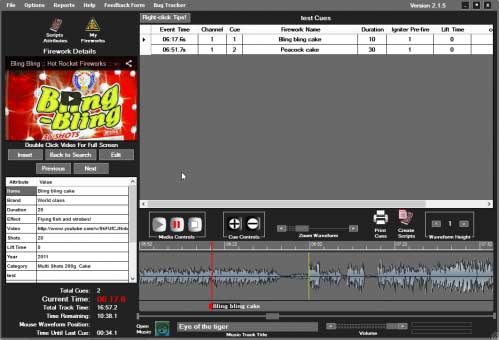 Scripting Software
Looking to automate your show, COBRA offers a variety of software options to make your scripting process both simple a sophisticated. Options include a free Excel Template, our introductory COBRA Show Creator software, and the powerful Finale Fireworks for larger professional displays. Our COBRA team is an expert in each of these options and can both help you decide on which software is best for you, and help support you with any questions you may have.
Igniters
COBRA offers two types of consumer-legal igniters. The first is the Talon Igniter Clip, the most reliable and simple to use clip for connecting to consumer visco fuse. COBRA also offers a professional grade consumer-legal option for connecting into the lift charge of any consumer (1.4g) or professional (1.3g) product. While more time consuming, connecting into the lift charge allows for instant, no delay ignition of your fireworks. Take a moment to watch our video showing both of these products in action to determine what is best for you.
Accessories
COBRA employs a universal, modular design. This means that all COBRA products will work together as a family. In addition, our modular design approach allows you to purchase a wide variety of accessories for enhancing the performance, functionality, and protection of your system.